Pictures of: Finisterre, Galicia
Hotels and other Accommodation
World Nomads
The Travel Insurance with the largest coverage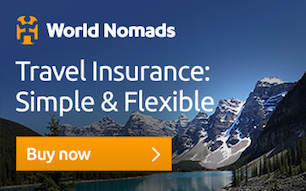 ---
Weather
The summer is pleasant; Winter is cool with precipitation and strong winds. Throughout the year, the weather is partly cloudy. Throughout the year, the temperature generally ranges from 9 ° C to 20 ° C and is rarely below 6 ° C or above 23 ° C.
The best time of year to visit and do warm weather activities is from late June to early September.
---
Security
Spain is a safe country, but the usual preventive and precautionary measures in European countries should nevertheless be adopted.

You should be aware of the possibility of theft or theft in cities and major urban agglomerations (in particular in historical and tourist-intensive areas), as well as in areas likely to be crowded, such as restaurants, shopping centers and public transport. As a precautionary measure, it is recommended that you do not carry too much money with you and, where possible, leave your identity or travel documents in a safe place (for example, in the hotel safe), replacing them with a stamped photocopy in the hotel itself.
---
Presentation
Finisterre is a municipality of Spain in the province of A Coruña, autonomous community of Galicia. To visit Finisterre is to travel back in time and to know a legendary place, wrapped in myths and legends, where once the world was thought to end. Its pristine natural landscape, where the land meets the Atlantic, gives it special attributes, making it a great travel destination.
---
Tourist points
Here are the points to include in your script:

Finisterre village with its picturesque harbor
Sanctuary of Santa María das Areas
Views of the Ria de Corcubión
Municipal Cemetery - original work of architecture
Ruins of San Guillerme Chapel
Finisterre Lighthouse - dating from 1853, stands 138 meters above sea level

Some of the beaches you should know:

Talón Beach
Langosteira Beach
Mar de Fóra Beach
Corveiro Beach
Ribeira Beach
Sardiñeiro Beach
---
Gastronomy
Fresh fish and seafood are the local products par excellence, but you can eat other typical Galician dishes, such as peppers, tortilla or squids. Taste the freshly caught seafood by the fishermen, especially the razor clams.
---
Other tourist destinations in:

Spain
---
Other world tourist destinations
---
City destinations and weekend getaways
---
Why to book with BOOK HOTEL MADEIRA
The best prices
Our partnerships with the world´s largest operators offer research on the best market prices.
More options
At Rotas Turisticos you can book the hotel, buy the air ticket, book the transfer from the airport to the hotel and vice versa, book the local excursions, rent the car, take travel insurance and consult the places to visit and where to go.
Holiday Tips & Destinations
Hundreds of holiday destinations with all the options that allow you to easily choose the destination that best suits your dream vacation.
---
---