Hotels and other Accommodation
World Nomads
The Travel Insurance with the largest coverage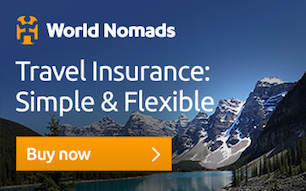 ---
Peñiscola
Halfway between Barcelona and Valencia along the Costa del Azahar, lies the small fishing village of Peñiscola, a municipality in the province of Castellón, Comunidad Valenciana, Spain.
The town is located on the Costa del Azahar, north of the Serra d'Irta along the Mediterranean coast, not necessarily being one of the most well-known resorts along in Spain, it is the jewel of the crown of the beautiful coastline of eastern Spain.
---
Tourism
The town of Peniscola is characterized by its medieval castle, which juts into the shimmering Mediterranean Sea, remaining surrounded by its ancient walls and the sea on almost every side. In fact Peniscola is often referred to as the city on the sea as it is connected to the mainland only by a narrow strip of land.
Peñiscola is today a most popular tourist destination and its main beach is about 5 km long and about 44 meters wide with areas of sand and rocks being bathed by calm and warm waters of the Mediterranean Sea.
To the south, the small beaches are bordered by cliffs and coves and are a popular area for diving. The attraction for this small town is so obvious, being a place of aesthetic beauty, and at the same time dramatic location that offers many miles of white sandy beaches and a multitude of facilities.
---
Gastronomy
Peñiscola is a city with a maritime tradition that is reflected in its rich gastronomy, with fish and seafood being the basis of its cuisine.
One can taste the well-known and delicious paella in which the seafood is combined with vegetables from the vegetable gardens. Do not forget to try the "suquet de peix (fish), Arrossejat" (rice dish), monkfish, pasta, shells, mussels or the different ways in which gilthead, sea bream, sea bass or shellfish are made. In addition, nowadays, as a tourist town, there are places to eat the highest quality cuisine.
---
Weather
Peñiscola enjoys an excellent climate all year round, with lots of sun and little rain, usually dry, with very hot summers and mild winters.
---
Other tourist destinations in:

Spain
---
Other world tourist destinations
---
City destinations and weekend getaways
---
Why to book with BOOK HOTEL MADEIRA
The best prices
Our partnerships with the world´s largest operators offer research on the best market prices.
More options
At Rotas Turisticos you can book the hotel, buy the air ticket, book the transfer from the airport to the hotel and vice versa, book the local excursions, rent the car, take travel insurance and consult the places to visit and where to go.
Holiday Tips & Destinations
Hundreds of holiday destinations with all the options that allow you to easily choose the destination that best suits your dream vacation.
---
---