Pictures of: Gran Canaria, Canary Islands
Hotels and other Accommodation
World Nomads
The Travel Insurance with the largest coverage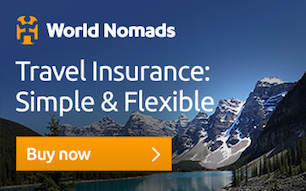 ---
Gran Canaria, Canary Islands
Gran Canaria is known for its white sand and black lava beaches. South beaches include bustling Playa del Inglés and Puerto Rico, as well as the quieter Puerto de Mogán and San Agustín. To the north, the capital, Las Palmas, is a must for cruise ships and duty-free shopping. The interior of the island is rural and mountainous.

 Families prefer the water parks and beaches of Puerto Rico. Those wishing for a more peaceful escape can move to the quieter fishing villages of Mogán. Visitors fill the bars, restaurants and beaches of Playa del Inglés. There are many urban attractions in Las Palmas. There are three freeways on the island for those who want to rent a car or need a bus. Major places include the San Juan Bautista de Arucas Church and Palmalitos Zoo.
---
When to go
Gran Canaria is described as the "island of eternal spring". Gran Canaria is a year-round destination and you can really come anytime without disappointment.

Of course it gets a little colder during winter, but compared to central and northern Europe it's still a paradise. Inevitably, the warm winter tends to attract most tourists from December to February and may be considered "high season", but it is certainly also high season between May and October. Cool sea breezes can be very refreshing compared to the warm months of July and August.
---
Other tourist destinations in:

Spain
---
Other world tourist destinations
---
City destinations and weekend getaways
---
Why to book with BOOK HOTEL MADEIRA
The best prices
Our partnerships with the world´s largest operators offer research on the best market prices.
More options
At Rotas Turisticos you can book the hotel, buy the air ticket, book the transfer from the airport to the hotel and vice versa, book the local excursions, rent the car, take travel insurance and consult the places to visit and where to go.
Holiday Tips & Destinations
Hundreds of holiday destinations with all the options that allow you to easily choose the destination that best suits your dream vacation.
---
---