Pictures of: Chipiona, Andalusia
Hotels and other Accommodation
World Nomads
The Travel Insurance with the largest coverage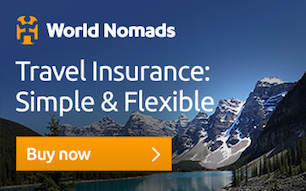 ---
Chipiona
Chipiona is a town and municipality located on the Atlantic coast in the province of Cadiz in Spain, situated in the lower valley of the Guadalquivir river, being very flat.
It borders north-west with Sanlúcar de Barrameda and south-east through the port of Rota.
It is the birthplace of singer Rocío Jurado and where her body now rests.
Chipiona also houses the tallest lighthouse in Spain and the third tallest lighthouse in Europe. The city is also known for several varieties of Muscat.
---
Tourism
Chipiona has some beautiful beaches, frequented by many people living in and around Seville, and is gradually becoming known to international tourists.
The most famous beaches are Playa de la Regla and Playa del Camarón to the east of Chipiona. Here you can escape the crowds and experience a typical Spanish seaside town.
The coastline stretches for about 10 km and has many other excellent beaches of fine white sand, for example Playa de la Cruz, Playa de la Canteras, Playa de Regla, Playa Tres Piedras and Playa Ballena. Playa del Camarón and Playa de las Canteras both awarded blue flags by the European Union for their high standards of facilities and cleanliness.
---
Gastronomy
Chipiona is characterized by a varied cuisine that combines the land (orchard and vineyard) and the sea, providing a superior quality of ingredients that fill your dishes with color and flavor.
Fish and seafood are highlights in the traditional chipionera cuisine regarding the quantity and diversity in its preparation.
Products that can be enjoyed both stews, grilled and delicious fried can be gilded, corvinas, flounders, rooks, sea breams, turbot, cuttlefish, sea urchins, shrimp, clams, cañaillas, and so on.
Chipiona's fertile land and climate make it possible for Chipiona crop products traditionally considered to be the best in this area such as tomatoes, carrots, cauliflower, among others, used in both local cuisine and for export.
Among the fruits stand out the oranges, lemons, watermelon, melon, and of course the Muscadine grape, with the famous Muscat wine made in Chipiona, nationally and internationally recognized and awarded diversity of specialized awards (Mosque International Challenge du Vin, Iberwine ...).
---
Weather
Chipiona has a mild Mediterranean climate with dry and hot summers and moderate seasonality.
The average annual temperature is 18.1ºC (64.6ºF).
Total annual rainfall 641 mm.
---
Other tourist destinations in:

Spain
---
Other world tourist destinations
---
City destinations and weekend getaways
---
Why to book with BOOK HOTEL MADEIRA
The best prices
Our partnerships with the world´s largest operators offer research on the best market prices.
More options
At Rotas Turisticos you can book the hotel, buy the air ticket, book the transfer from the airport to the hotel and vice versa, book the local excursions, rent the car, take travel insurance and consult the places to visit and where to go.
Holiday Tips & Destinations
Hundreds of holiday destinations with all the options that allow you to easily choose the destination that best suits your dream vacation.
---
---