Pictures of: Cook Islands
Hotels and other Accommodation
World Nomads
The Travel Insurance with the largest coverage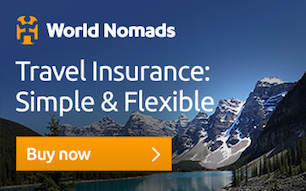 ---
Weather
Tropical Climate, with monsoons - rainy season and monsoons between November and February.
---
When to go
Travel should be planned after obtaining prior information on weather conditions.
---
Official language
The official language is English, also speaking Maori.
---
Local currency
The local currency is the New Zealand dollar (NZD).

Major credit cards are accepted in most hotels, shops and restaurants. Travelers checks and major currencies are accepted at major hotels and stores.

There is an ATM at Banco ANZ in Avarua. Banks sometimes indicate a new PIN for access to bank accounts in other countries.
---
Travel documents
It is sufficient for the traveler to have a passport valid for 6 months (or more) beyond the date of departure, round trip travel permit and proof of accommodation and means of subsistence during the stay. On departure the traveler has to pay a fee.

For more information on entry / exit requirements, travelers are advised to contact Cook Islands Tourism Corporation.
---
Security
Good. The vast majority of visits to the Cook Islands go smoothly, there are no serious security concerns and low crime.
Tourists should be aware that petty crime, theft and car theft can occur, so the usual precautions are advised, especially at night, not to boast valuables and not carry large sums of money.

Other important information:

- Police: 999
- Firefighters: 998
- Medical Emergency: 996
---
Health and vaccination
The following diseases may occur: Hepatitis A, Typhoid Fever, and Dengue Fever.
Health facilities are suitable for treating routine medical conditions. For more complex medical conditions, evacuation to New Zealand or Australia should be used. There are medical and dental services in Rarotonga, including hospital and emergency services.
Due to these factors, it is advisable to take out health insurance covering the entire holiday period and the possibility of evacuation.

Addresses of the main Hospitals and Clinics

- Avarua Hospital, Avarua - Tel. +682 22644
---
Communications
Fair, with fixed and mobile network. The services are adequate. The country code is 682.
---
How to get
The most important international calls are guaranteed by Air New Zealand have weekly nonstop flights to Rarotonga International Airport with connections from New Zealand, Australia and the United States.
---
What to do
Lagoon Cruises - These Are A "Must Do"! You will dive, have a fresh lunch with barbecue and enjoy live entertainment with coconuts, pareus (sarong) music and some laughs.
Snorkelling, SUP and Sea Scooters - There are many ways to explore the crystal clear lagoons and watch giant sea turtles and a variety of tropical fish and coral reefs.
Fishing - Throwing a line in the shallows or venturing into the deep blue all year round is a good time to try your luck.
Diving - Enjoy incredible water clarity, steep ocean slopes and diverse marine life.
Aitutaki Day Trip - If you're staying on Rarotonga Island but not spending the night in Aitutaki, take a trip to Aitutaki on a snorkel lagoon cruise, a barbecue lunch, an island tour, and more. It is simply stunning.
Hiking - Rarotonga has trails for all fitness levels. A must for explorers is Cross-Island Trek, with the Te Manga Climbing and The Raemaru Track.
Cycling - Feel the freedom of the islands by cycling.
Off the Road- Thrill-seekers will love to get off the beaten path with a variety of inland adventure tours, from buggies to quads and 4x4s.
Island Nights -Try an island night at various resorts or in a true cultural village like Highland Paradise or Te Vara Nui.
Cultural tours - Visit a cultural village and learn about the customs and rich history of travel and tribal wars.
Markets - Visit Muri's night markets, held four times a week, for affordable local eating. On Saturdays, stroll through Punanga Nui markets for entertainment, fresh food stalls and organic coffee, as well as wonderful handcrafted souvenirs.
---
Tourist points
With so many ways to enjoy these beautiful islands, the hard part is deciding what to start with first. Stroll along virtually deserted white sand beaches, relax in a hammock as you watch the waves roll, or go out on the lagoon or deep in the jungle to enjoy the many activities and adventures they offer. That is the beauty of this South Pacific destination.
Aitutaki - an emerald green main island, is arguably one of the most beautiful of all South Pacific destinations.
Atiu - There are few places in the world like Atiu, an island over 8 million years old - ancient, remote and lush with dense rainforests and coastal woods. Known as the land of birds, Atiu is about half the size of Rarotonga. The villages are on the central plateau, where the soil is rich and some of the best coffees on the entire Pacific coast are organically grown.
Mangoia - is the second largest and southernmost of the Cooks Islands. This island is made up of high limestone coral, dotted with numerous caves that span gigantic underground caves.
Mauke - Often described as the Cook Island Garden Island, it is hugged by a nearby reef.
Mitiaro is one of the most beautiful and remote islands in the Pacific. Mitiaro has a distinctive history, as well as the unique appeal of some of Polynesia's most impressive underground pools and limestone caves.
OTHER ISLANDS:
Manuae
Takutea
Manihiki
Penrhyn
Rakahanga
Pukapuka
Nassau
Suwarrow
Palmerston
---
Presentation
The Cook Islands are a nation in the South Pacific with political ties to New Zealand. Its 15 islands are spread over a very large area. Cook Islands defense and foreign affairs are the responsibility of New Zealand, but are exercised in consultation with the Cook Islands.
The Cook Islands are located in the South Pacific, at the same time as Hawaii. An untouched paradise where "over-tourism" does not exist.
There are no renowned resorts, no taller buildings than a coconut tree - even though the islands offer modern amenities and incredibly affordable resort accommodations, ranging from home stays to luxury lakeside resorts and everything in between. There are properties that suit everyone's budget, taste and location - your options are endless. Most properties are small to medium in size, with many situated on the beach in tropical gardens.
Discover true island life in the South Pacific.
---
Other world tourist destinations
---
City destinations and weekend getaways
---
Why to book with BOOK HOTEL MADEIRA
The best prices
Our partnerships with the world´s largest operators offer research on the best market prices.
More options
At Rotas Turisticos you can book the hotel, buy the air ticket, book the transfer from the airport to the hotel and vice versa, book the local excursions, rent the car, take travel insurance and consult the places to visit and where to go.
Holiday Tips & Destinations
Hundreds of holiday destinations with all the options that allow you to easily choose the destination that best suits your dream vacation.
---
---