Hotels and other Accommodation
World Nomads
The Travel Insurance with the largest coverage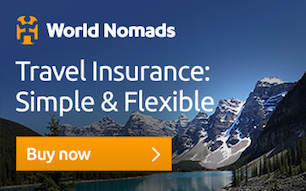 ---
Weather
Tropical climate, with constant temperatures throughout the year (18º to 33º). The rainy season runs from May to October. It is located in a region of high seismic risk and prone to heavy storms and hurricanes.
---
Official language
Castilian
---
Local currency
Colón, although the US Dollar is also accepted.
Credit cards are generally accepted in major cities. However, its use is very limited in less urban areas.
---
Travel documents
No visa required. The passport must be valid for no less than six months.
---
Security
Very handicapped. Crime is high, including extortion and armed attacks by the "Maras", i.e. youth gangs - 20,000 out of a population of six million - considered very dangerous.
Public transport throughout the country should be avoided.
El Salvador has one of the highest homicide rates in Latin America. It is totally inadvisable to circulate at night, even accompanied.
Inland and on roads the risk is directly proportional to the degree of isolation and lack of adequate infrastructure.
Emergency telephone numbers
Local Police: 911
Fire Department: (503) 25557300
Red Cross: (503) 22225155
---
Electricity
110 volts AC, 60 Hz, 220 Volt
---
Presentation
El Salvador is a small Central American country known for its Pacific Ocean beaches, surfing spots and mountain scenery. From volcanoes to villages, from beaches to mountains, if you are planning a trip to Central America, do not hesitate to hike through this wonderful country, it is a destination rich in geography and culture.
---
Main tourist points
- San Salvador: From beautiful volcanoes and breathtaking crater lake to some of the best parks in the country, natural beauty is just around the corner
La Palma is famous for being the city where national artist Fernando Llort taught. Using bright colors, children's images and religious themes, Llort has captured the hearts of the Salvadoran people, making La Palma a nationally recognized art center.
- Suchitoto: A relaxed atmosphere, beautiful panoramic views and picturesque cobbled streets, this city is one of the most charming in the country.
Joya de Cerén is an extraordinarily well-preserved Mayan village. The village was hastily abandoned when residents fled the Laguna de Caldera eruption in 640 AD.
- Santa Ana offers visitors an urban appeal with a slightly more tranquil environment compared to San Salvador.
- Tazumal is a cluster of unusual step pyramids, the highest reaching up to 75 feet in height (the largest in the country.)
Coatepeque Lake, or Caldera Coatepeque, is a lake located in the heart of a volcanic crater. At 16 km in diameter, it is one of the largest lakes in El Salvador.
- Cerro Verde National Park
- La Ruta de las Flores is a 32-kilometer mountain road that begins in Sonsonate.
La Libertad is a small port named after the independence of El Salvador from Spain.
Costa del Sol is a sandy beach, just 30 minutes from San Salvador Airport, the Costa del Sol is becoming an increasingly popular tourist spot.
El Tunco is one of the northern most popular coastal cities for tourists. Named after the "pig-shaped" rock located on the coast, it is a rugged and powerful region that does not provide swimming but is the surfers dream come true.
San Miguel is a popular tourist destination, although a bit less developed. It also provides some of El Salvador's highest quality seafood.
Playa El Cuco is a coastal town that offers vendor huts, seafood restaurants and a palm-lined coast.
Ruta de Paz, or Path of Peace, is a popular tourist itinerary that winds through the area hardest hit by the civil war. Visitors will find beautiful mountains and picturesque colonial towns, with three main stops along the route (San Fernando, Arambala and Perquín.)
---
When to go
From October to April.
---
Communications
Good phone network. Mobile phone use is widespread. The mobile network uses the US digital system.
---
Health and vaccination
No vaccine is required, but tetanus, polio, typhoid, diphtheria, and hepatitis A and B vaccines are strongly advised.
It is advisable to subscribe to a travel insurance policy that covers hospitalization expenses and possible health evacuation.
Health Network: Disabled. The use of private health facilities is recommended. Only bottled water is advisable for consumption. Caution is required as to how food is prepared.
The rainy season, from May to October, is conducive to the occurrence of dengue, due to the increase in the number of mosquitoes. Before you travel you should consult your doctor as there is a risk of malaria between June and November.
---
Other world tourist destinations
---
City destinations and weekend getaways
---
Why to book with BOOK HOTEL MADEIRA
The best prices
Our partnerships with the world´s largest operators offer research on the best market prices.
More options
At Rotas Turisticos you can book the hotel, buy the air ticket, book the transfer from the airport to the hotel and vice versa, book the local excursions, rent the car, take travel insurance and consult the places to visit and where to go.
Holiday Tips & Destinations
Hundreds of holiday destinations with all the options that allow you to easily choose the destination that best suits your dream vacation.
---
---