Pictures of: Montreal, Canada
Hotels and other Accommodation
World Nomads
The Travel Insurance with the largest coverage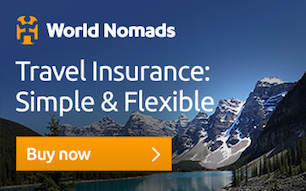 ---
Weather
Summer is long and warm; winter is freezing, snow and high winds. Throughout the year, the weather is partly cloudy. Throughout the year, the temperature generally ranges from -13 ° C to 26 ° C and is rarely below -23 ° C or above 30 ° C.
The best time of year to visit Montreal for warm weather activities is from late June to early September.
---
Security
Safety conditions are generally good but usual care in large urban centers is recommended.

Other important information

Emergency Number (Police, Ambulances and Fire): 911
---
Main tourist points
Witness a French-infused city with a passion for festivals, the arts, fine food, the art of good living and making the most of life!

- Port of Montreal - In addition to visiting the parks around the port, locals and tourists often plan trips on the Le Bateau-Mouche Parisian along the St. Lawrence River.
- Biodome Environmental Museum
- Botanical Garden
Considered one of the most beautiful churches in North America, the Notre-Dame Basilica is truly an impressive work. Built in 1829, Montreal's oldest Catholic church is on Place d'Armes.
- Marché Bonsecours, the vegetable market
- Museum of Fine Arts and Contemporary Art.
- IMAX (third dimensional cinema)
- La Ronde (Amusement Park).
---
Gastronomy
Montreal overflows with temples dedicated to Kamouraska lamb, Arctic trout and, of course, poutine. You'll find irresistible pastries, English pubs, 80-year-old Jewish delicatessen and magnificent Parisian food markets. There are trendy bars, plenty of vegetarian options and numerous cafes where you can spend the afternoon in a relaxing way. There are restaurants until late at night where you can delight in wonderful food and drink combinations that you won't find anywhere else in the world.
---
Presentation
Montreal is the largest city and tourist destination in the province of Quebec, Canada. Known for cultural diversity, it has over 80 ethnic groups represented in its metropolitan area. It presents strong traces of an American city mixed with typical European ingredients that delight its visitors.
Very well located is two hours away from Ottawa by car, two and a half hours from Quebec and five hours from Toronto. Its main natural attractions are the São Lourenço River and Monte Royal, with a park that welcomes visitors during all seasons.
With an incredible schedule of events, it annually hosts more than 40 festivals including jazz and film festivals such as the well-known Montreal Word Film Festival. The cultural area is one of the busiest, with over 100 English and French theater companies. It is also considered one of the largest fashion centers in the world.
---
Other tourist destinations in:

Canada
---
Other world tourist destinations
---
City destinations and weekend getaways
---
Why to book with BOOK HOTEL MADEIRA
The best prices
Our partnerships with the world´s largest operators offer research on the best market prices.
More options
At Rotas Turisticos you can book the hotel, buy the air ticket, book the transfer from the airport to the hotel and vice versa, book the local excursions, rent the car, take travel insurance and consult the places to visit and where to go.
Holiday Tips & Destinations
Hundreds of holiday destinations with all the options that allow you to easily choose the destination that best suits your dream vacation.
---
---