Pictures of: Guayaquil, Ecuador
Hotels and other Accommodation
World Nomads
The Travel Insurance with the largest coverage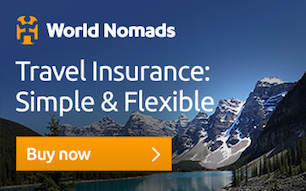 ---
Presentation
It is the largest city in Ecuador, and also the main port of the country. It lies on the western bank of the Guayas River, which flows into the Gulf of Guayaquil in the Pacific Ocean. Its great economic pole developed around a port. The origin of the place name "Guayaquil" is attributed to a story that became a romantic legend that went by word of mouth. Aboriginal resistance who - according to popular tradition - chose to fight to the death before submitting to the vassalage imposed by the Spanish conquerors.
The city has become a national and international tourist destination.
This beautiful city will provoke your senses and envelop you with its tasty cuisine, rich history and stunning streets.
---
How to get
Guayaquil has two of the most modern airports and bus terminals in Latin America. Due to its importance, public transport reaches all regions of the country, in addition to having several options abroad.
---
Tourist points
The urbanization of the city, at least in the tourist area, is admirable and new places are being created for use by both visitors and residents. As the largest city in the country, it has a vast hotel chain and great restaurants that fit in every pocket.
The attractions of Guayaquil, the largest city in Ecuador:

1. Puerto Hondo Spa and Recreation Center
The place is a good tourism option for those traveling with children as it has over 8,000 square meters of play area.
2. Cerro Santa Ana
Go to this hill and see its galleries, colorful houses, fortifications and even cannons.
3. Malecón 2000
It is a modern urban park with a riverside boardwalk.
4. La Rotonda
This place represents the mysterious meeting, in 1822, between Simón Bolívar and José de San Martín. Flanked by beautiful fountains and brightly lit at night, La Rotonda celebrates two leaders who shared the broad goal of freeing South America from Spanish control.
5. Pirate Boat Morgan: Brave Captains
Take a one-hour cruise on a replica of the schooner headed by the notorious and brave Henry Morgan.
6. Las Peñas, one of the oldest and most traditional neighborhoods.
---
Main tourist points
Guayaquil is the largest city in Ecuador and almost all of its sights are close to the Guayas River. Enjoy its parks, museums and sample typical Ecuadorian foods. (fish soup with onions).
- The hills of Santa Ana and El Carmen
- Venture into the Cerro Blanco Grove
- Visit the Historical Park
- Tour La Bahia
- Relax in Salinas or General Villamil Playas
---
Gastronomy
In Ecuador and its various cities and towns, you will eat a lot of bananas. Of various types, used in the preparation of various recipes, from salty to sweet.
For a complete dining experience, be sure to sample these delicacies:
- Chifles - fried banana slices. It is often served with various sauces: aji (pepper), cheese and peanuts.
- Cocolón - Fried rice, crispy and al dente.
- Muchines - Wahoo fried dumpling with aji (pepper) sauce.
- Green Boloncitos - Cheese-Filled Ground Banana Fried Dumpling
- Morocho empanadas - small pastries stuffed with a mixture of rice, lentils, vegetables and cheese.
- Hayaca - corn pasta with egg, raisins and chicken, boiled in banana leaf.
- Locro de papa - Potato and corn soup, with cheese on top and pieces of avocado.
Among many more culinary delights you will not want to miss!
---
Health and vaccination
It is recommended for all travelers who have medical and travel insurance (Ecuador's public health system caters for all people, including foreigners in an emergency, but private hospitals require medical insurance or credit card retention).
Mandatory vaccines: none
Recommended: Yellow fever.
The sanitary network is precarious, but the main urban centers have potable water.
It is recommended to consult the website of the Ecuadorian Ministry of Health for health warnings and recommendations: http://www.salud.gob.ec/
---
Weather
The season with precipitation is hot, oppressive and overcast; the dry season is warm, muggy and partly overcast. Throughout the year, the temperature generally ranges from 21 ° C to 31 ° C and is rarely below 19 ° C or above 33 ° C.

The best time of year to visit and do warm weather activities is from late May to mid-October.
---
Security
Therefore, the usual precautions that common sense requires are: not to neglect personal effects, not to display luxury goods, to avoid talking on the mobile phone in the street, not to walk around in urban areas, not to travel unattended to remote places and Preferably avoid night trips, choose reputable travel agencies (endorsed by the Ecuadorian Ministry of Tourism), especially if you want to make excursions to more isolated locations, as well as transport and official taxis. In short, it is recommended that you maintain a vigilant and cautious attitude, especially in the historic centers of large cities.

Drug possession and trafficking are severely punishable by law in Ecuador (prisons are generally harsh and prison sentences increased). About 90% of foreigners detained in the country are serving time for possession and / or drug trafficking. Each traveler should pack their own luggage and not carry any package with another person or lose sight of their luggage. Under no circumstances should you accept help from strangers to carry your luggage.
---
Other tourist destinations in:

Ecuador
---
Other world tourist destinations
---
City destinations and weekend getaways
---
Why to book with BOOK HOTEL MADEIRA
The best prices
Our partnerships with the world´s largest operators offer research on the best market prices.
More options
At Rotas Turisticos you can book the hotel, buy the air ticket, book the transfer from the airport to the hotel and vice versa, book the local excursions, rent the car, take travel insurance and consult the places to visit and where to go.
Holiday Tips & Destinations
Hundreds of holiday destinations with all the options that allow you to easily choose the destination that best suits your dream vacation.
---
---