Hotels and other Accommodation
World Nomads
The Travel Insurance with the largest coverage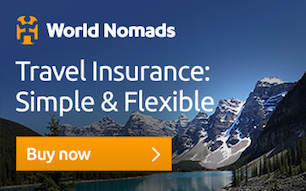 ---
Cyprus
Cyprus officially the Republic of Cyprus with the capital city of Nicosia, is an island country in the Eastern Mediterranean Sea, the third largest and most populous island in the Mediterranean, and is also a member state of the European Union.
It is located east of Greece, southern Turkey, west of Syria and Lebanon, northwest of Israel and north of Egypt.
The oldest known human activity on the island dates from around the 10th century BC.
Archaeological remains from this period include the well-preserved neolithic village of Khirokitia being in Cyprus also home to some of the oldest water wells in the world.
The first known foreign settlements on the island were mainly Phoenician and Greek, with Phoenician culture dominating the eastern and southern parts of the island.
Cyprus was colonized by Mycenaean Greeks in the second millennium BC, until its conquest by Alexander the Great.
---
Official language
Turkish and Greek
---
Currency
Euro
---
Tourism
Cyprus is an island whose rich dramatic history can be followed for over nine thousand years, an island that, being so coveted over the centuries, invaded and claimed by a fascinating mix of near and far civilizations, has left its mark on its character.
An island whose archeology stems from the Neolithic period, the ancient Greeks and the Roman period, where churches and monasteries have been standing since Byzantine times; castles and palaces from the days of the crusaders and splendid city walls since the days of Venice.
An island chosen by the mythical gods and goddesses of Ancient Greece, who have given themselves here to the pleasure of sport and tragedy; where Aphrodite, goddess of love and beauty, emerged from the foam of Paphos to become a famous cult figure - a center of attraction for the first visitors who gathered to worship her.
With such a historical and legendary background it is not surprising that Cyprus has developed a character that is quite unique. It is blessed with beauty, the natural beauty that ranges from golden beaches and rugged coasts, to forested hills and mountains, dotted with picturesque villages.
Known as the "island of sin" or "island of fun," thanks to stories from Agia Napa, or, as tourist brochures like to point out, "island of Aphrodite." In both cases Cyprus confirms its unique type.
Either way, in the tourist hubs of places like Paphos, Agia Napa or Lemesos (Limasol), one can feel like entering a scorching sunny suburb like Essex.
But if curiosity attracts the tourist out of cities. The small villages of the Akamas Peninsula and the golden heavenly beaches of the Karpas Peninsula (Kırpaşa) are discovered.
Still find the beautiful Troodos and Kyrenia (Girne) to inhale the scent of Morfou's citrus orchards (Güzelyurt) or climb the medieval castles with their fantastic island stories. Strolling through the sea of ​​flowers that cover the island in spring, Cyprus is breathtaking.
---
Gastronomy
Cypriot cuisine reflects the rich and turbulent history of the island with its indelible Greek culture. In the country, there are flavors influenced by the Middle East, Asia Minor and Venetians, using all fresh local ingredients, herbs, spices and olive oil. The Mediterranean diet with its sun-ripened grains and pulses, fresh fruits and vegetables, high protein fish, lean meat and poultry and wine are healthy options as well as irresistible temptations.
Kopiaste is a word with sincere meaning, which is heard assiduously in Cyprus, which means join us.
A great way to try a wide variety of foods that Cypriots enjoy is to visit a typical local tavern and order mezedes. Here you will get plate after plate of different flavors, both meat and vegetables, but beware, because the food is so good you have to eat slowly so you do not have an appetite halfway through the meal!
Cyprus is also rich in fish taverns and here one can experience another gastronomic delight surrounded by Cypriot families.
"Pastitsio" minced meat with a rich and delicious creamy sauce and "Afelia" pork in red wine sauce are just two of the wide variety of dishes one can try, and to accompany, perhaps preserved fruits or nuts that they can be enjoyed with a medium or sweet coffee, "Sketo, Metrio or Glyko".
Halloumi cheese is one of the few cheeses that can be enjoyed grilled, fried or just plain. The choice of food is as varied as the landscape.
---
Weather
Cyprus enjoys an intense Mediterranean climate of hot and dry summers from mid-May and lasts until mid-September and very mild winters from November to mid-March. Spring and autumn are characterized by the mild climate.

There is a significant seasonal difference between mid-summer and mid-winter temperatures, ranging from 18 ° C inland to about 14 ° C on the coast. The difference in minimum and maximum temperatures during the day and night in winter ranges from 8 ° C to 10 ° C in lowlands and 5 ° C to 6 ° C in the mountains, and in summer in the central plain and 9 ° C to 16 ° C.

Daily temperatures during the warmer months of July and August range from 29 ° C in the central plain to 22 ° C in the Troodos Mountains.
In January, the coldest month, the indicative daily temperature is 10 ° C in the central plain and 3 ° C in the highest parts of the Troodos Mountains while average minimum temperatures are 5 ° C and 0 ° C.

The open sea temperature hovers above 22 ° C from June to November, rising to 27 ° C in August. Even during the coldest three months from January to March, the average sea temperature is an acceptable 16 ° C or 17 ° C.

Cyprus has a very sunny climate compared to most countries with 11.5 hours of bright sunshine a day over the six summer months.

The winds on the island vary relatively in direction and strength depending on the elevation of the terrain and local temperatures.
---
Documentation
The required documentation varies by nationality. A valid passport is required for a stay of up to 90 days for all genuine tourists, except citizens of the countries of the European Union, Switzerland, Iceland, Liechtenstein and Norway, who may enter Cyprus with their national ID card provided they have a Photograph. Some non-EU third country nationals need a visa.

To travel to the Republic of Cyprus for reasons other than immigration, and the visit does not exceed three months, you may need a travel visa. The travel visa entitles you to an uninterrupted stay or several visits to Cyprus. The duration of the total visits should not exceed three months for half a year from the date of the first visit. In general, the Cyprus short-stay visa is issued for one or several visits.

If you need to come to Cyprus often (business trips, etc.), it is possible to obtain a multiple entry visa for several visits. The total duration of the visits should not exceed three months for half a year from the date of first entry. Multiple entry visa for Cyprus is valid for one year. In exceptional cases, it may be valid for more than one year, but not more than five years, for certain categories of people.

More detailed information can be obtained from the Ministry of Foreign Affairs, or from the Cypriot Embassies or Consular Services in the traveler's country of residence.
---
Health
Cyprus has no dangerous infectious diseases. Visitors do not need any kind of vaccine to travel to Cyprus.

Medical treatment and assistance in Cyprus is offered free of charge to international tourists in case of emergency at the Department of Public Hospitals and Accident & Emergency Health Institutions.
EU citizens must complete an E111 form or a European Health Insurance Card (CESD) issued by their national health authorities for additional health care.
Tourists can also use their health insurance for their medical expenses as long as the policy covers the length of their stay on the island. More detailed information can be obtained from the Cyprus Ministry of Health.
---
Telecommunications and electricity
International calls can be made from public payphones available at various central locations in all cities and villages, as well as at international airports, ports and elsewhere. There are three types of payphones - coin phones, outdoor card phones and indoor card phones. Public payphones can be used for national and international calls.

Many establishments including internet cafes and hotels offer multi-speed and type internet connection services. Depending on the establishment, the service offered is wired or wireless and is usually charged by the hour.
Free CYTA and MTN Wi-Fi hotspots

The electricity supply in Cyprus is 230 volts, alternating current 50 Hz.
The plugs are usually 13 amps and square pin in most buildings.
Adapters are not recommended for operating high-voltage appliances. Current Rating (ie electric heaters, toasters, irons, etc.) Many hotels offer adapters on request. Adapters can be purchased at supermarkets, grocery stores, etc.
---
Protection and safety
Tourist crime is not common, but passports, money and other valuables should be kept safe.
Personal attacks, including sexual assaults, are not frequent but they can occur. Care should be taken not to let foreign ingredients get into the drink, especially in nightclubs, bars, etc.
Avoid walking alone, and don't go out with people you don't know.

Water is good to drink in Cyprus. Water pollution is negligible and every house has clean running water. Tap water in hotels, restaurants, public places, etc. is also good for drinking.

It is possible to travel from south to north of Cyprus, including through checkpoints at Ledra Palace and Ledra Street in central Nicosia, where you can cross on foot.

Cypriot immigration authorities confirm EU passport holders with an RTNC stamp on their passport have no difficulty entering the Republic of Cyprus.
There are controls on the quantities and types of products that can be purchased in the north and brought south, including from the village of Pyla, a buffer zone.
Goods, including cigarettes, may be confiscated at the checkpoint and may be fined.

Visitors wishing to bring their car to Cyprus can do so for up to three months, provided that the vehicle has a valid registration license from their home country. This period may be extended as long as the driver is considered a visitor to the Customs and Tax Department.
Visitors from any member of the European Union, Switzerland, Croatia, Iceland and Norway who bring motor vehicles with a license plate from one of these countries to Cyprus are not required to provide proof of insurance coverage at their point of entry. as they are presumed to have insurance insured in their own country of origin.
Foreign visitors who bring a motor vehicle with a registration plate that do not belong to one of the above-mentioned European countries will be required to show a valid green card to the Cypriot authorities. Foreign visitors can get a valid green card even if their home country is not a member of the green card system.
---
Other world tourist destinations
---
City destinations and weekend getaways
---
Why to book with BOOK HOTEL MADEIRA
The best prices
Our partnerships with the world´s largest operators offer research on the best market prices.
More options
At Rotas Turisticos you can book the hotel, buy the air ticket, book the transfer from the airport to the hotel and vice versa, book the local excursions, rent the car, take travel insurance and consult the places to visit and where to go.
Holiday Tips & Destinations
Hundreds of holiday destinations with all the options that allow you to easily choose the destination that best suits your dream vacation.
---
---